Wandsworth Mediation Service is honoured to announce that we have received the King's Award for Voluntary Service (KAVS), the highest award given to volunteer groups in the UK, and the equivalent to an MBE. This prestigious accolade is the first of its kind under the reign of King Charles III, and is a lifetime honour for charities. We are delighted that the peace-making vision of WMS has been recognised by the King. Over the past 20 years, our work has supported and empowered thousands of people in conflict, improving lives and reconnecting families, colleagues and communities.
The KAVS award celebrates exceptional volunteer contributions that positively impact communities. Such an accomplishment could not have been possible without the dedication of our volunteers, staff, supporters, throughout our history. Your belief in our mission is the foundation of our success. Stephen Ruttle KC, our chair and founder says, "As peacemakers we are always bearers of hope; even in the most unlikely situations in an increasingly despairing world. This Award makes a profound statement of hope that people like us, from day to day and from year to year, really do help change lives and will continue to do so".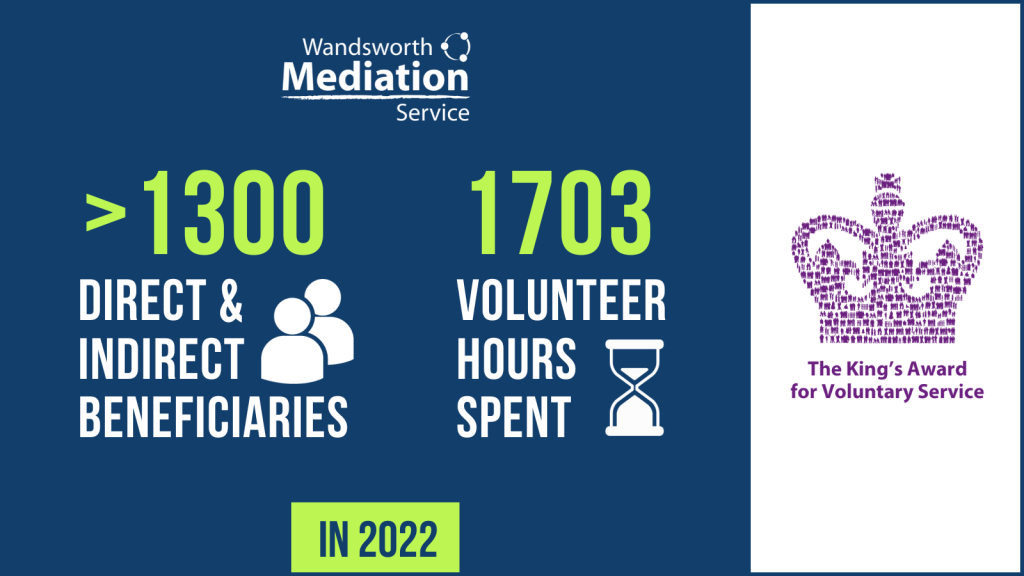 WMS began as a small-scale mediation charity in Wandsworth and has since flourished into a conflict resolution and training provider with national reach. In 2022 alone, our direct and indirect beneficiaries totalled over 1300, with our dedicated volunteers contributing over 1700 hours to our cause. Our trustee and community mediator Hilary Brodsky shares: "I have been a volunteer with WMS very nearly since its beginning. It has been an honour, ever inspiring and humbling, to walk alongside those who give their time and talent to listen and hear community voices."
In addition to our conflict resolution work, in 2023 we have expanded our training programmes, including our work with schools. In primary schools, we train pupils to become peer mediators and resolve playground disagreements, and in secondary schools, we teach and empower young people on the brink of exclusion to communicate effectively. Thanks to funding from the Wandsworth Grant Fund and the Wimbledon Foundation Community Fund+, we will be offering these programmes for free to four schools in the London Borough of Wandsworth. Our aspiration for the years ahead is to offer these programmes to all state schools in Wandsworth free of charge.
To help us carry on with this crucial work, we welcome your donations. No contribution is too small or large. Please click here to donate.
With grateful thanks,
Anna, Jenny, Kirsten, Lisa and Selina, and all of WMS trustees.